Planning a milestone birthday is never easy. It's even more challenging during a global pandemic, when it's difficult to see people, go anywhere or do anything. Mindful of the virus, I envisioned a small group of close friends gathered in a remote location to enjoy fine food and drink, live music and outdoor adventures. I wanted to celebrate my favorite person's 50th year on Earth as safely as possible. And I figured there was nowhere more isolated than the desert and no better outfit to pull this off than the Eleven Experience.
An outdoor travel company, Eleven Experience is known for its world-class lodges in secluded and idyllic locations around the globe. The group's high-end destinations span continents and include remote properties in the Bahamas, Colorado, Iceland, the French Alps, New Zealand and Patagonia. No matter where you want to go, Eleven thrives on providing solutions that make any adventure memorable and comfortable—even one that takes place in the middle of the desert.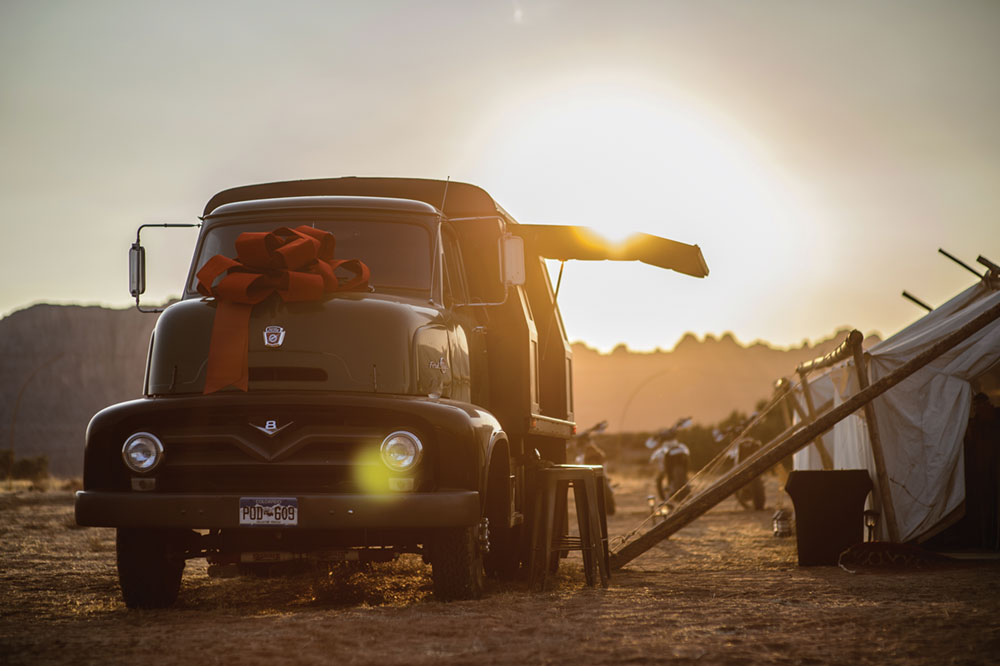 Our journey took us outside Moab, Utah, where Eleven mobilized a fleet of Airstream travel trailers and support vehicles, including a beer truck that served Colorado's Irwin Brewing Company beer, its jalapeño-infused Mexican lager being my favorite. The Airstreams were a nice touch. In 1931, Wally Byam opened his first Airstream trailer factory in Culver City, California. Ninety years later, the iconic brand still delivers what Byam originally intended to sell: "A way of life."
My guests and I certainly experienced a way of life that turned out to be unforgettable. Airstreams symbolize and romanticize American travel, and their well-appointed interiors offered comfort and functionality for our stay in Utah. The trailers circled the Bedouin-style desert camp that served as home base for the birthday-bash getaway. For days, our living quarters' stainless-steel shells shimmered in the bright sunlight. Eleven's village also included open-air tents for socially distanced gatherings, in which we ate meals prepared by Eleven's chefs, drank and listened to internationally renowned musicians.
As the warmth from the desert days receded into evenings, guests assembled under the high arches of the music tent. Bathed in the ever-changing colors of the stage lights, we were treated to a mind-blowing display of musical talent. Grammy-nominated, contemporary blues artist G. Love put his incredible musical diversity on display. Sometimes he played alone; other times he joined British funk and soul band the Eddie Roberts Trio. He also sat in with the horn-led, rhythm and blues specialists the California Honeydrops. The musical acts assembled in an organized manner and took the stage to play their sets in a prearranged order.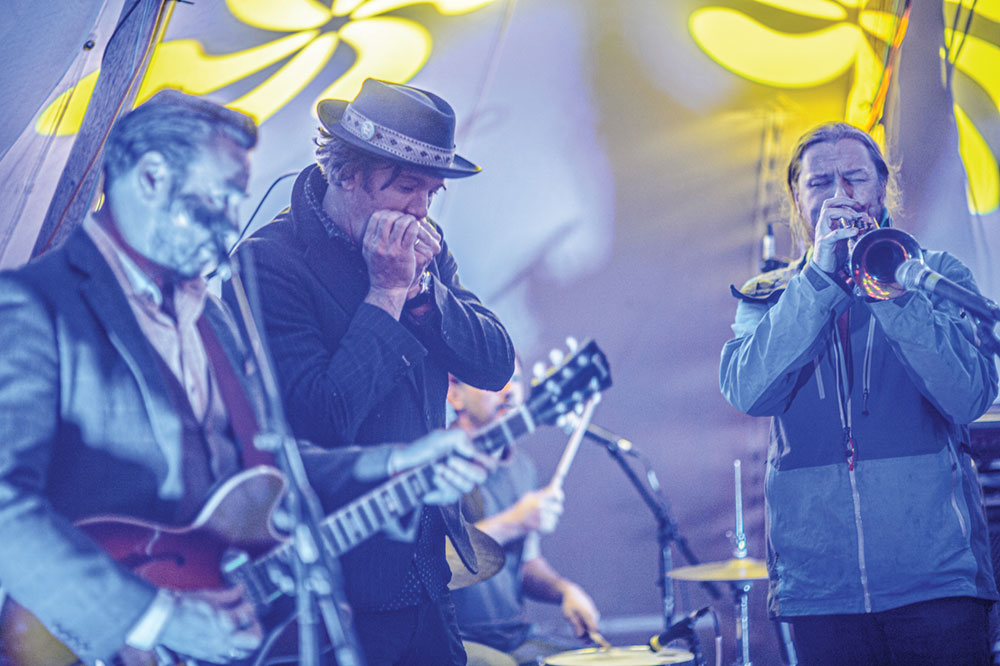 Warm notes gave energy to the guests, and the musicians joined together to play as one. It was clear the artists reveled in the pure joy of making music and doing what they love most. On most nights, music played into the early morning hours, until the solar-powered generators clicked out, indicating that it was time to rest and retreat to Eleven's custom, tricked-out Airstreams.
While the luxury provided by the Eleven Experience is second to none, the heart and soul of the company lies in adventure. With a host of world-class guides leading the way, we were able to experience the outdoors in ways we never had before. In Moab, Eleven led excursions on mountain bikes, four-wheel vehicles and electric dirt bikes. Some days they led us on casual hikes to take in petroglyphs; other days featured more strenuous hikes to the summits of sandstone monoliths and up the steep walls of canyons. Many of the experiences left us refreshed and in awe of the desert's natural beauty. The adventurous days left us in sight of our comfort zones, but never in them.
Overall, we observed the natural beauty of the desert and experienced its mystical elements. The area Eleven used for the camp is a known energy vortex, which for millennia has presented a deeply spiritual landscape. I encountered feelings of peace, harmony and emotional rejuvenation; my guests shared the same sentiments.
We said our goodbyes at the end of the trip and prepared to return to our normal, quarantined lives. We did so with bittersweet sadness and gratitude. We shared and celebrated a special event—and enjoyed a way of life like no other. I miss the sights and sounds. I miss my desert friends.
---
Irwin Fletcher is an entrepreneur and adventurer. He enjoys spending time with his family skiing, mountain-biking, fly fishing and listening to live music. He's also a big fan of Airstreams and is ready to hit the road again.
Photos courtesy of Eleven Experience
(Visited 349 times, 1 visits today)