Gundogs are always fun to watch. I followed Bart and Winnie as they scampered along a bush-hogged pathway that cut through a waist-high field of millet and sorghum. Severed plant stalks crunched beneath my boots. Despite the earplugs, I heard the rustling of crumpled brush beneath their paws and the voice of Marcus Heath.
"Look at Winnie," he said. "She's gettin' birdy. Work your way right behind her and get ready. You'll have a shot."
A rooster pheasant suddenly disrupted the grasses and soared above the trail. I rotated the gun to fire as it headed for the tree line. I squeezed the trigger, but it didn't move.
"Happens to the best of us," said Heath.
I noted the safety on the Beretta Silver Pigeon 12-guage over/under and wouldn't make the same mistake twice. (I repeated the error an hour later.) I shrugged my shoulders and rolled my eyes. Heath smiled. Then he told me to cross the trail and make my way over to the tree line.
"We'll get in there and see if we can flush them back out for you."
Primland Resort's top guide called Bart and Winnie to action, and they entered the woods as if they understood English. Moments later, another rooster flew from the trees, and the black-and-white pointers tore after the bird. I squeezed the trigger twice, and tail feathers scattered in the air.
"You winged him, but you got him," Heath said. The rooster fell from the sky and Winnie retrieved. The guide stuffed the downed gamebird in the back pouch of his jacket.
"Nice shot. That was a tough one. There's a lot of birds here right now, and they've been out here for a while. And there's abundant ground cover. That makes them behave and fly like wild birds when they're flushed, which makes this more challenging than what you might be used to."
Eric Kallen, an accomplished photographer and our magazine's editor-at-large, joined me on the trip to Primland to take pictures for this article. As we walked in the field, Heath explained we were fortunate. The week before our arrival, the resort released more than 1,000 pheasants to accommodate a large hunting party.
I listened as Heath called Bart and Winnie. Noses to in the air, the pointers zig-zagged through the brush with focus. It was enjoyable to witness the dynamic union of genetics and training as the pair worked the field.
"Look—Bart's on another one," Heath said calmly.
Winnie joined in, and another rooster took flight. I missed the first shot but dropped the bird with the second. Bart retrieved and Heath pocketed a second pheasant.
"These dogs are something, I said."
"We've gotten nine puppies out of Bart and Winnie. I'm grateful to them and they do a good job."
A few minutes later, the dogs got birdy on a hen. She darted from a tree, and I quickly put her down.
We moved on to a second field using a second set of pointers: Maude (black and white) and Lulu (brown and white). The trails were a bit wider in the field, and we saw plenty of birds. Maude and Lulu did their jobs, but I failed a few times at mine. They flushed birds, but their flight patterns were challenging for a novice like myself. I shot two more and we called it a day.
***
Kallen and I arrived at the luxe Primland Resort in Meadows of Dan on March 15 for a two-night stay. At 12,000 acres, the property is so large there are two entrance gates. We arrived at the North Gate, which is best for lodging, spa and dining guests; the South Gate, in Claudville, Virginia, close to the North Carolina border, is better for hunters, shooters and sport riders.
We checked into our rooms in Bluebird, one of the Pinnacle Cottages that offers sweeping views of the valley 2,800-feet below. I stayed in an eco-friendly Dan River suite that features 982 square feet of living space with large, covered decks that are 248 square feet. The master bedroom and bath are separate from the expansive living room, wet bar and gas-burning fireplace. I don't think I've stayed in a nicer "room" anywhere.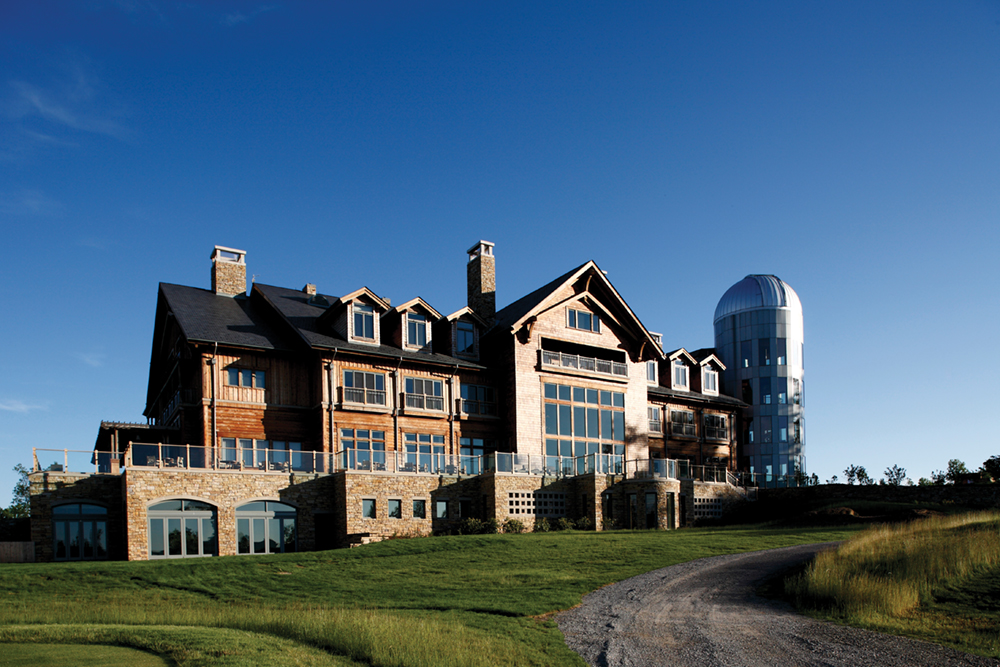 The Lodge is within view of my deck and a 10-minute walk from the Pinnacle Cottages. That evening, our itinerary began with dinner in the Lodge's 19th Pub. Casual, cozy and COVID-19 friendly, we sat on barstools at a table in front of the bar. Even though we were surrounded by craft beers, single-malt scotches and top-shelf spirits, we tried Primland's famous select moonshine cocktails, which harken back to the region's rich bootlegging history.
Kallen and I started with an appetizer: Joyce Farms chicken wings with buffalo sauce. Our server Adam recommended them, and they were smoked to perfection. He was spot-on with his pub fare picks too: slow-cooked farmhouse chicken, Flat Iron steak frites and peanut butter pie for dessert.
After dinner, we were scheduled to visit Primland's fully equipped Observatory, which is adjacent to the Lodge. Unfortunately, because of poor weather and visibility, we had to skip stargazing. Kallen enjoyed it on a previous visit, and he said the experience is something else. The resort's altitude and clear vantage point, combined with its Celestron CGE Pro 1400 and CPC 800 telescopes, give guests extraordinary glimpses of the heavens—stars, planets, nebulae and amazing celestial objects with an absence of ambient light—and beyond our solar system.
The next morning, we ate breakfast in the Lodge's Elements restaurant before heading to the Outdoor Activities Center at the southern end of the property for an RTV (rough terrain vehicle) excursion and sporting clays. Primland is a member of the National Sporting Clays Association and offers sport shooters 14 stations over a mile-long course.
Heath worked with us on five of the stations as an instructional warm-up shoot for the hunt. After educating me and refining my technique with expert pointers, we ate at the Woodland Grille back in the Outdoor Activities Center. The Grille is a great place for a light lunch and gave us a nice break before the afternoon pheasant hunt.
That evening, we had a private dining experience at the Lodge's new Schlumberger Wine Cellar, which seats up to 10 guests. This intimate and modern space features varietals from the world's finest vineyards, including Domaines Schlumberger, Primland's sister property in France's Alsace region.
The menu was equally stunning and prepared by Elliot Cunniff, newly appointed executive chef. Cunniff dazzled us with a special six-course meal: Asparagus; Scallop Crudo; Linguine Cacio e Pepe; Stuffed Quail; Fluke Grenobloise and Lemon Panna Cotta for dessert. His creations that evening were nothing short of masterful, and we chose to pair the meal with a 2014 red Burgundy.
On the day of our departure, we returned to Elements for breakfast before meeting with Chandler McGrady, assistant to Primland's VP Steve Helms. We piled into one of the resort's 4×4 SUVs that are required to reach the Tree Houses. Guests who stay in one of the Tree Houses can use one of the SUVs during their entire stay.
Perched on the edge of the mountains and a short drive from the Lodge, Primland's three Tree Houses are intimate cabins built around the solid branches of treetops. Rustic yet plush, Barn Owl, Cooper's Hawk and Golden Eagle each offer breathtaking views of the majestic Kibler Valley 1,500 feet below, as well as the North Carolina piedmont from a private deck.
McGrady also gave us a tour of the Fairway Cottages. The refined duplex cottages feature stone walkways, hardwood floors cathedral ceilings, Tennessee field stone fireplaces and private decks with views of the Blue Ridge Mountains.
"The COVID-19 pandemic gave us a chance to enhance the property," said McGrady. "Last year, we closed in March and reopened in May. During that time, we pressure-washed the Lodge, upgraded our booking system and outfitted rooms and cottages with Lenovo tablets for access to amenities. We also opened the new Bootleggers Outdoor Gym and Fitness Trail with eight workout stations built into the landscape. Some guests embrace the outdoors, especially now. So the trail offers yoga, balance beams, pullup bars, and more. Our resort combines the natural world with luxury, and we've been busy ever since we reopened."
When we checked out, McGrady had five dressed pheasants for me ready to go in a cooler. Back home, my friend prepared the birds with her great-grandmother's recipe. We wrapped the breasts with turkey bacon and cooked them with celery, carrots, onion and fresh chopped chives. The sauce was out of this world—a blend of sour cream, mayonnaise, Dijon mustard, butter and salt and pepper. And so was my hunting trip to Primland Resort.
Visit Primland.com for more information.
---
Joe Shields is the editor in chief of The Virginia Sportsman. He is a writer and marketing executive based in Charlottesville, Virginia. His writing and photography have appeared in The Virginia Sportsman and other publications. He is also a gallery-represented artist whose work is found in private collections and several galleries in Virginia. Whether fly fishing or surfing, drawing or painting, he celebrates sporting life and culture in his narratives and art.
(Visited 1,944 times, 1 visits today)