Sometimes a lunch break is not just a lunch break. That was certainly the case for Craig Colberg one day 10 years ago when he sat down for a sandwich at a local gas station/deli in Charlottesville. During a successful career in the investment world, he found his eyes drawn to an advertisement in the local real estate magazine. It was no larger, he said, than his cell phone. Could it be, he wondered, the magical property along the Blue Ridge Parkway? The one that had captured his imagination when he used to drive past it as a child?
Colberg made a phone call. He took a recon mission on the weekend. Same property indeed.
Colberg made an offer Monday, had a contract Friday, and the story of 12 Ridges Vineyard and Residence Club began. He and his wife Anne were not at all sure what they would do the property when they purchased it, and while good wine was a passion of Colberg's, a vineyard wasn't on their minds until some years later.
The property had a rich history dating back to the 1960's. It had provided grazing land for sheep before later becoming a Belgian-style village. It was also a Christmas tree farm and a private event center for Washington & Lee University. In 2017, Colberg began reading about cool-climate wines, and his interest was piqued further during a visit to his wife's native South Africa where he met a winemaker who was encouraging of the idea. Upon his return home, soil tests were ordered, which showed the land to be rich in nutrients. He had one small clue that it might work—a single vine he could see from one of the houses on the property that produced a tiny but reliable crop each year.
It wouldn't be easy, but it would be record-breaking. At an altitude of 3,300 feet, 12 Ridges is the highest-altitude vineyard in Virginia. This, Colberg learned, would require what he calls "heroic farming."
"There is a lot we have to endure up here, from a shorter growing season to wind, cold weather, and the limited variety of grapes we can put it in the ground," he said.
Never one to back away from a challenge, Colberg put a team of consultants together that included noted Virginia wine industry expert Jake Busching and ground expert Bubba Easley.
This year, 12 Ridges celebrated its first harvest. Meanwhile, the vineyard was already developing a loyal following of visitors from around the Commonwealth, drawn by its nearly unmatched panoramic vistas and a mountain microclimate that provides a much-needed respite from the summer heat and humidity. The vineyard also offers first-class hospitality that has wine lovers coming back—and raving to friends.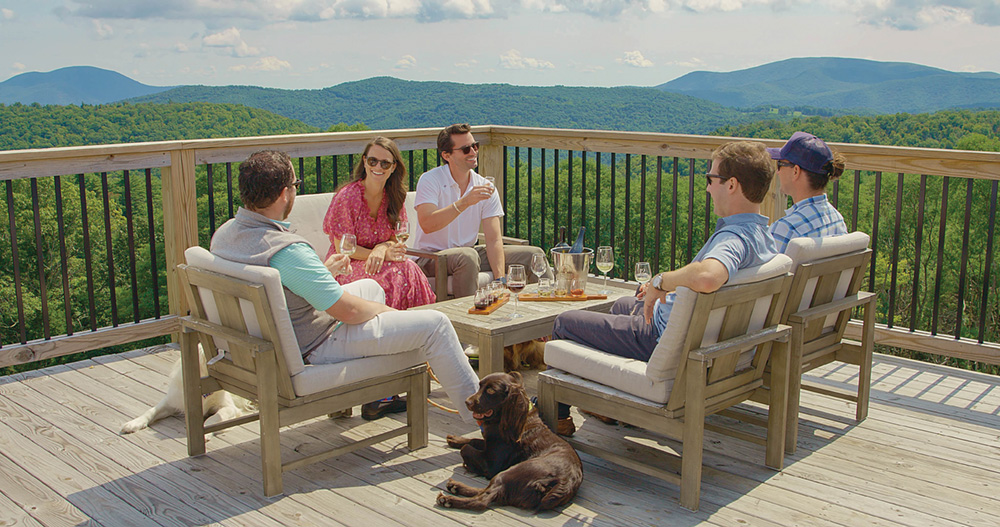 This spring, 12 Ridges is taking their brand of hospitality to brand new heights with the launch of the 12 Ridges Vineyard & Residence Club, an equity residence club offering a fractional co-ownership model. Located on 77 acres just over a green grass ridge from the winery's gorgeous tasting room and expansive outdoor deck, the development will feature 14 private, spacious lots that will each feature homes unlike any other you will find at a Virginia resort property.
Colberg, a fan of modern architecture, was imagining "a modern interpretation of a mountaintop home." He engaged the internationally renowned firm Bohlin Cywinski Jackson (BCJ). "They created the early Apple stores," he said, including the iconic glass cube on Central Park South. They also did Bill Gates' house, Colberg added, and had an excellent working relationship with Steve Jobs."
Each 12 Ridges home will be fully furnished and accessorized, with gourmet kitchens and beautiful outdoor areas featuring barbecues, hot tubs and fire pits, not to mention jaw-dropping views ranging from mountains to valleys and back again. Each residence will have eight owners who will enjoy frequent use of the property throughout the year. They will also reap the benefits of a Residence Club staff who help them combine luxury resort-style living with the benefits of vacation home ownership—with a dedicated Residence Club staff that takes care of the worries and responsibilities that generally come with absentee ownership. Finally, guests will also benefit from membership in the "Elite Alliance Exchange," a collective of spectacular properties around the world, from Tuscany to Telluride, New York to Napa Valley and Bermuda to Balriloche that offer members exclusive privileges.
And, lest we forget, there is the vineyard. "The vineyard is an important part of our program," Colberg said. In addition to the rare treat of having a stunningly situated tasting room in your backyard, it brings a unique aesthetic appeal. "The lines can draw your eyes into a distant view, and the beauty of that is hard to capture in words."
Construction on the homes as well as the infrastructure for a 6,000-square-foot community center is slated to begin later this spring.
For more information on 12 Ridges Vineyard and Residence Club, visit 12RidgesResidences.com. 
---
John Kelly is the managing editor of The Virginia Sportsman. He is a writer and public relations professional based in Charlottesville, Virginia, whose work has appeared in the UVA Arts Magazine, Albemarle Magazine and USA Today, among other publications. John also works regularly throughout Central Virginia as a singer songwriter and recently released an album of original songs titled "In Between."
(Visited 941 times, 1 visits today)