Rafting, Tubing, Snow Tubing, Ziplining and More in Jefferson County, West Virginia
Matt Knott grew up on a West Virginia dairy farm that was just miles from the rivers he has now built his life around, close to where the Shenandoah and the Potomac flow and meet in his hometown of Harpers Ferry. However, the first time he found himself rafting the waters was in college, when he was on his first day of training to be a river guide.
"My parents were not into adventure sports at all," Knott said. "They always told us not to get in the river."
Today, he is making up for lost time as the CEO of River Riders Family Adventure Resort. Located just an hour from the Washington D.C. and Baltimore metro regions, River Riders delivers a comprehensive array of outdoor experiences ranging from white water rafting to tubing, canopy tour/zip lining, aerial forest adventure parks, kayaking, canoeing, mountain biking, lodging options and, brand new this year, a snow tubing park boasting the longest run on the East Coast.
Like many who fall in love with the river life, it didn't take long for Knott to see the attraction.
"It's just a great gig," he said. "You basically get to sit on the back of a raft, float down the river every day, and get paid for it."
"I am most interested in bringing people to the state and introducing them to all we have
to offer here."
Given its seasonal nature, however, he recognized that unless he was going to commit to traveling the country to follow the seasons, the business did not offer much upward mobility. So, after graduating from college with a degree in business and recreation, he began work as an underwriter for State Farm but spent his weekends river guiding. While he has only good things to say about the company and his colleagues, it did not take long for the river to pull him back. At the age of 24, Knott and his wife Laura embarked on a wild ride of their own by buying the business.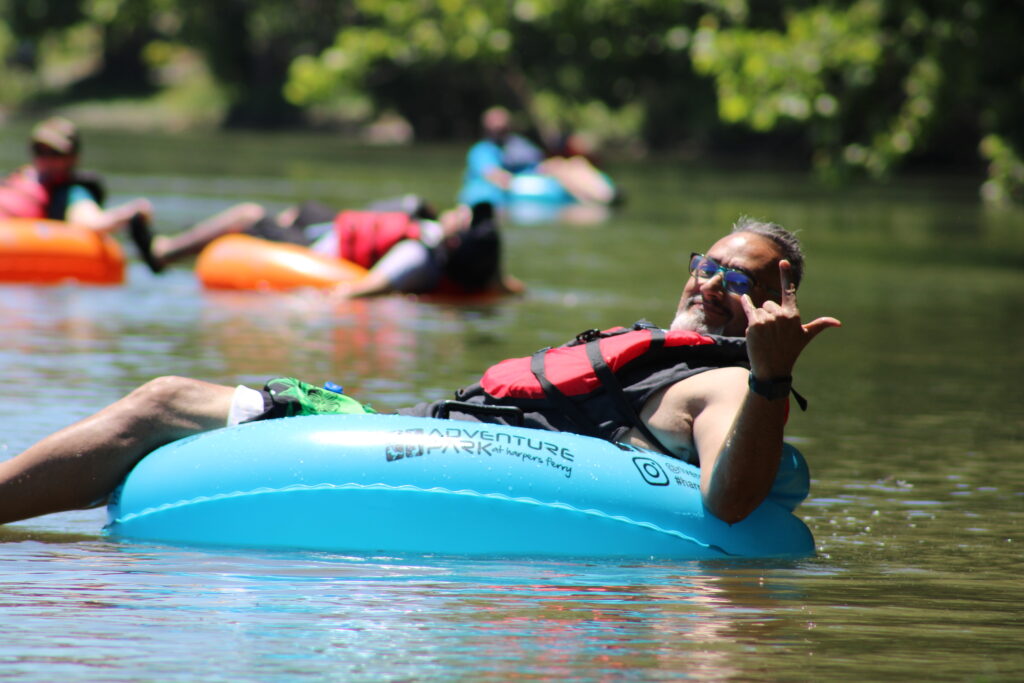 Knott had developed a relationship with the previous owner, who ultimately agreed to owner-finance the sale. He instantly had some catching up to do with the digital world.
"This place did not even have a cash register when I took it over. I had been doing some work to help get a website going."
Today, the business has grown digitally and every other way, with a staff of some 150 at the height of the summer season to deliver visitors of all ages an array of memory-making outdoor experiences that will keep them coming back for more. Knott and his team make sure to pair these experiences with a best-in-the-business level of customer service that allows guests to create their own experiences with whatever level of support they desire.
The core experiences of River Riders remain rafting and tubing, mainly at the beginner and intermediate levels, and including guided and unguided journeys. Fishing is popular too, with smallmouth bass being the main target, and guided trips available on the Shenandoah River.
"The only way to really find yourself is to get out of your comfort zone and explore nature," added Knott, who earned his Master of Business Administration (MBA) from the MIT School of Management in 2020. "And that's what people did during COVID-—they looked for adventure in the wilds, and West Virginia is a great place for that. We continue to enjoy an uptick in business as more people seek remarkable experiences in Jefferson County's outdoor playground."
Bringing new faces to West Virginia is something that is near to Knott's heart. He is a longtime member of the West Virginia Tourism Commission and a member of the local convention and visitors bureau. "At this point," Knott said, "I am most interested in bringing people to the state and introducing them to all we have to offer here."
The only way to really find yourself is to get out of your comfort zone and explore nature.
A variety of lodging options are available, ranging from rental homes and cabins to a campground located on a calm, lake-like portion of the river that is perfect for canoes, kayaks, and standup paddleboards. For adventurers who prefer to stay on dry land, there are a variety of hiking and biking experiences as well, including a brand-new fleet of e-bikes that are perfect for exploring the 185-mile-long C&O Canal National Historical Park that runs along the Potomac River.
For more information on how to launch your own River Riders adventure, visit riverriders.com.
---
John Kelly is the managing editor of The Virginia Sportsman. He is a writer and public relations professional based in Charlottesville, Virginia, whose work has appeared in the UVA Arts Magazine, Albemarle Magazine and USA Today, among other publications. John also works regularly throughout Central Virginia as a singer songwriter and recently released an album of original songs titled "In Between."
(Visited 6 times, 1 visits today)