The path that an artist's career takes is rarely straight. Like the curves and bows of the Yellowstone River, which runs near her home and studio in Livingston, Montana, AD Maddox's rise to prominence has followed a similar course.
Born and raised far from the Rocky Mountains in Nashville, Tennessee, Maddox demonstrated a passion and a gift for art at an early age. Despite her obvious talent, she did not set out to be a professional artist, in part because of her father's insistence that she follow a more traditional career path.
"My father and I have always been close, and I have always valued his opinion," she said. "He believed it would be hard for me to make a living as an artist, so I guess it was difficult to argue with that."
For anyone who has ever spent time with Maddox, it's easy to be moved by her energy and passion. When you speak with her, it's hard not to feel a connection and understand where her talent comes from. (It comes from her heart.) And she's not one to subscribe to convention.
In her early 20s, Maddox moved to Jackson Hole, Wyoming, to find a job. She was born into the sporting life, and Jackson Hole seemed like a perfect place for her to chase wild brown and rainbow trout. Wyoming had a lot to offer: wide-open spaces, beautiful scenery and some of the world's best trout fishing. These things gave her plenty of inspiration for her true love—painting.
Maddox's early works sold quickly, and with the same speed she developed a loyal following. She lacked formal training, but this reality gave her the freedom to create her own style that she continues to refine.
Using oil as a medium and relying frequently on bright colors, Maddox's brush strokes are subtle and often unrecognizable on her Belgian-linen canvases. Marshall Cutchin, a longtime fishing guide and publisher of the online fly-fishing magazine MidCurrent, describes Maddox's work as, "A kind of photorealism on steroids."
At the heart of her approach is a layering technique that she has used and modified throughout her career. The specifics of her technique are known only to her, but the results produce art that is so realistic it leaves many people gasping.
During her time in the West in her 20s and 30s, Maddox lived the life that she painted. She fished, rode horses and spent time in the outdoors that served as the backdrop for many of her paintings. Her connection with her western subject matter contributed to the realism she was able to portray in her work.
Always a free spirit, Maddox embraced her time in the West—particularly in Wyoming and Montana. She lived the life she painted but began to loser her center. Maddox became distracted by her lifestyle and lost focus on her art. That's when she made a move—and returned to the family she has always been close to.
"Art is where I generate my power," she explained. "To do this, I needed a base—something stable. For me, this meant moving back to Nashville."
Maddox set herself up in a loft apartment in the city's downtown and started over. Astute and driven, she focused on her art—and her business. The move paid off. Literally. Soon, her paintings were featured on popular products such as Buffs and Croakies; they also landed on the covers of Gray's Sporting Journal, Catch Magazine and the L.L. Bean catalog. As her commercial efforts prospered, Maddox continued to challenge herself artistically by refining her technique and expanding her subject matter to include horses and other wildlife.
Despite hitting her stride and receiving widespread acclaim, the artist felt something was missing.
"When I was out West, I was painting the experiences I was having. I painted fish that I caught and held. I waded in the waters where the fish lived. When I moved back to Nashville, I began to paint from photographs. It just didn't seem right. I didn't feel as connected to my art."
To watch Maddox paint can be an experience in sensory overload. She plays loud music in the background. Adrenaline fills the studio. She moves her brush confidently across canvas, often rapidly with little room for error.
"When I lay down a brush stroke, I know what I want it to be," Maddox said.
Confidence of this nature is born of practice and study. Long hours spent perfecting paint consistency, lighting and color mixture.
Maddox's time in Nashville was important to her development on many levels. She found her balance and center. She reestablished herself as an artist and a businesswoman. She fell into a good and comfortable life. But as she painted in her penthouse studio in Tennessee, Maddox began to feel a restless energy and yearned for something more. She realized that Nashville was not her final stop; she didn't want to paint from photographs and wanted to return to her creative center in the West.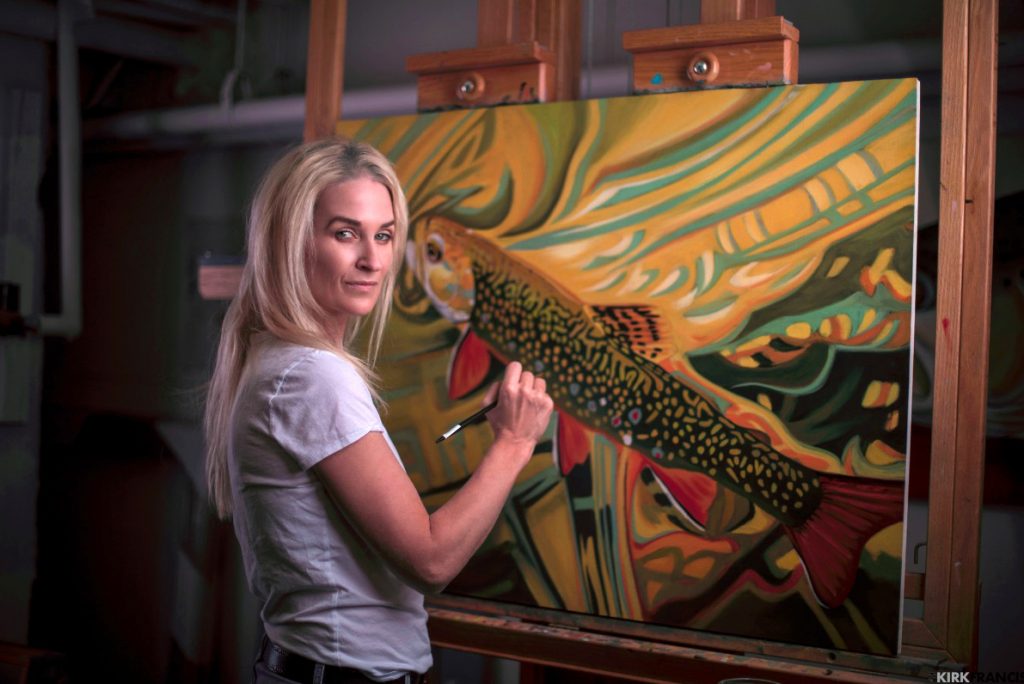 The 19th century buildings that line Main Street in Livingston, Montana, are quintessential of an old western town. Situated on the banks of the Yellowstone River and located only an hour from Yellowstone National Park, Livingston attracts hikers, anglers and an eclectic group of artists and writers. These include renowned authors Jim Harrison, Thomas McGuane and Earl Craig—Montana's poet laureate who works as a farrier when not writing poetry.
Maddox chose Livingston, with its harsh winters (a perfect time for Maddox to do her painting) and western ambience, for her return to the region. She started her latest chapter by converting an old building into an art studio, gallery and apartment.
"I feel like Livingston is where I'm supposed to be," Maddox added. "Everything I've been working towards has led me to this place, at this time."
Maddox's work continues to impress, and her following continues to grow. A recent show in her new Livingston gallery resulted in sales that stripped the walls bare. During the warmer months, Maddox spends her time fly fishing and exploring Montana's open expanses on her Ducati motorcycle. These are the experiences that she hopes to put on canvas during the cold winter months. And while her setting has changed, her approach has not. Maddox paints as she lives, with confidence, passion and a realism born from her heart.
---
Eric Kallen is Editor-at-Large of The Virginia Sportsman.
(Visited 937 times, 1 visits today)